Driving IT change…
Enterprise Technology rarely exists without a business purpose. An IT department's aim is to make it easier for their organisation to deliver relevant, efficient and quality services to its end customers.
CoStratify has a strong technical and service delivery background but we know it's difficult to make actionable recommendations without first understanding how you use IT. This is why our unique approach gives us just enough information about your organisation to quickly make relevant observations and recommendations. We specialise in an approach that is a simplified version of Enterprise Architecture that not only covers technical change but takes into account your IT service and most importantly the benefits to your organisation IT must bring.
It's an approach that has been refined over years of working across multiple customers in multiple sectors including local government, housing, healthcare and finance. We use an experienced network of associates to provide foresight and thought leadership, with each Enterprise Architect or consultant having over 15 years experience in delivering IT change programmes and IT strategies.
We know you will gain value from our approach and our pragmatic mindset. Call us today and arrange a meeting to discuss how our approach can best help you.
Andy Yates & Andy Shuttleworth
Enterprise Architects and Founders
Our Mission
Our mission is to ensure we help customers gain the most value from their IT. Our goal is to help you choose the right approach, technology and services in a deliberately strategic way. We believe in continuously helping to inform you of these choices as your organisation navigates challenges and constraints.
We are always on your side and we offer advice that we believe is best for you, based on facts and strategic thought. We make recommendations and stick by our decisions, helping you when you need a partner most but not interfering when you don't.
Our Enterprise Architecture approach is about consistency, transparency and continuity, enabling you to uplift your IT services and align them with the business whilst keeping down costs and being efficient in delivery.
Meet the team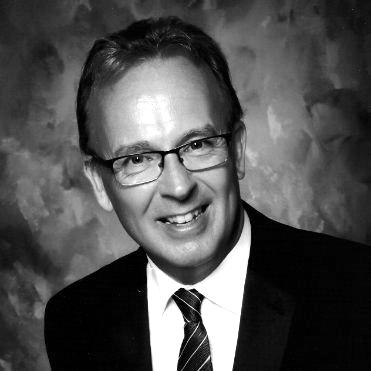 Andy Yates
Co-Founder
After over 11 years with BT Global Services and previously 9 years with IBM, Andy is looking for opportunities to grow the business further. Andy is passionate about getting the best out of IT. In this role Andy continues with his pragmatic approach to defining IT Strategy to deliver increased business results.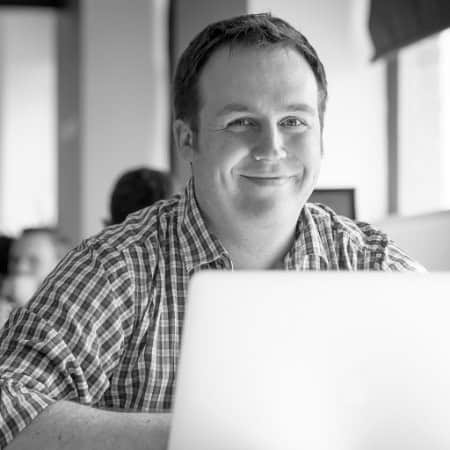 Andy Shuttleworth
Co-Founder
With 17 years of experience, Andy has worked for major industry-leading companies, landing himself in the position of Director of Infrastructure Services at Shaping Cloud Limited. This led on to forming his own IT consultancy company, Easitect in 2018. Andy went on to co-found CoStratify in 2019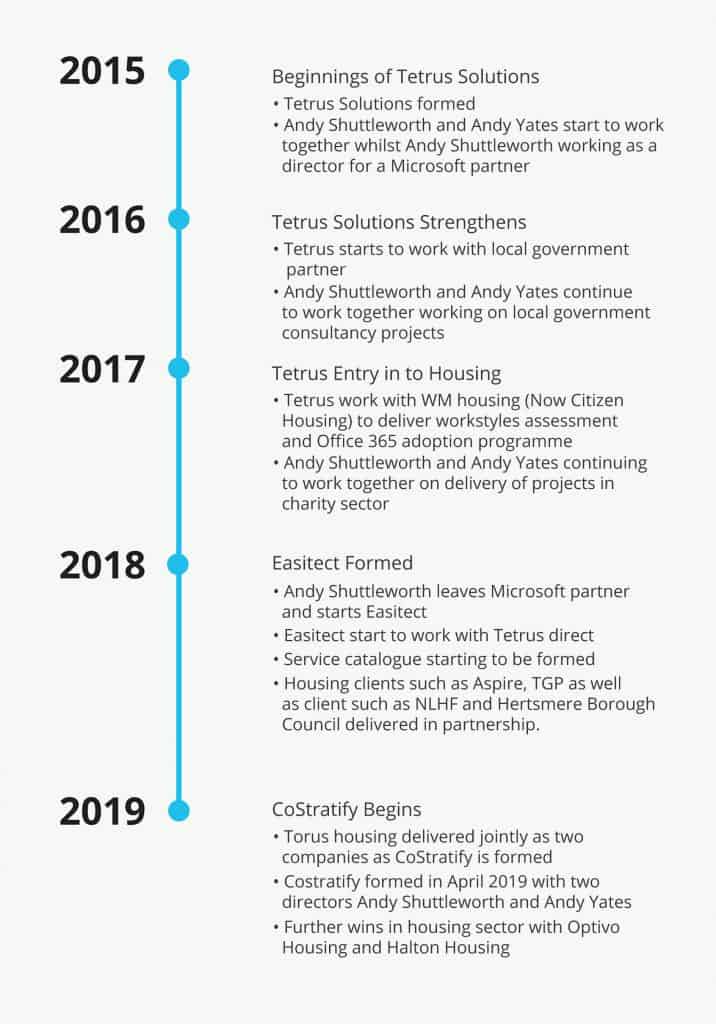 Tetrus Solutions
Owned by Andy Yates.
Setup to unlock the puzzle of IT.
Working almost exclusively in public sector organisations but with a broad focus.
Easitect Limited
Owned by Andy Shuttleworth
Based in the North of England
Originally started with EA as a Service in mind given the complexities of moving to public cloud and digital transformation.
CoStratify Limited
Joint owners of CoStratify, Andy Shuttleworth and Andy Yates.
Based in the North of England.
Uses an associate model with 10+ associates
Formed on April 1st 2019.
Highly detailed evidence based roadmap focused on justification for change. Actionable insight aligned to delivery roadmap. Delivered as a one off fixed price, fixed outcome project.
1.
Roadmap Service
Great for delivery of digital roadmaps and cloud strategies.
Outcome based projects provided on a fixed price, fixed outcome delivery. Great for strengthening in-flight project governance or overcoming hurdles that need specific input.
2.
Transformation Enablement
A 'pick and mix' approach of over 40 consultancy and IT architecture services.
Establishes a proactive guidance function, enabling consistent and valuable change. Service contract, pay per month delivery mechanism with regular monthly contact on site.
3.
Strategy Guidance
Great for supporting organisations through significant change activity.