Total Cost of Ownership of IT – post COVID 19, why this is even more important to understand
It is now nearly 8 weeks since I wrote the first post in relation to the experiences that we were observing at CoStratify during lockdown. Then last month we held our 'Life after Lockdown' webinar that served as the second post on our experiences and views as to what life may be like for all of us after lockdown relaxes. If you missed the webinar, it can be downloaded here. We got some great feedback from the webinar and it would be great to get more views and feedback as we all start returning to some level of normal business activity.
In that webinar my concluding thoughts were :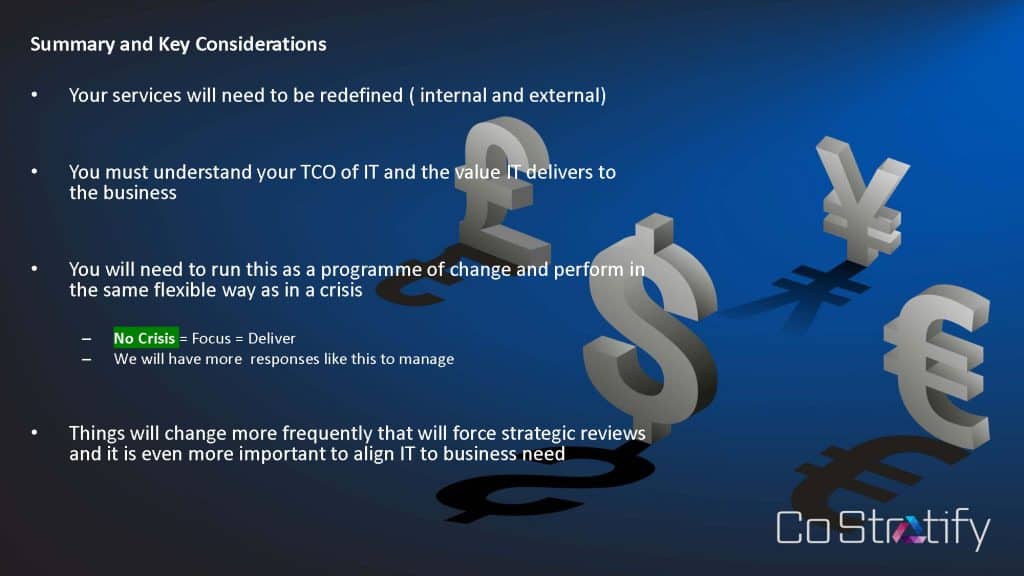 Over the coming weeks, I will focus on each of these areas in turn in upcoming articles. Today I wanted to focus on the topic of 'Basing decisions on evidence to drive continuous improvement' and specifically draw your attention to the second bullet point in relation to the Total Cost of Ownership.
My biggest frustration over the years has been the ineptitude and lack of attention in business to fully understand how much things really cost in IT and how a business case is built on a set of numbers that are based on a limited understanding of the current usage and state of IT. In many cases, the understanding of the current costs of a service are just equal to how much was spent on software or hardware and don't take into account the costs of staff, maintenance, and share of the infrastructure used, including compute, storage and networks. This often leads to over-inflated expectations of benefits, with savings and programmes of work that are underspecified and misunderstood. With the worst-case scenario frustrated business users and a CFO or Finance director throwing their arms up in disbelief as IT costs continue to rise even after improvement projects have completed. The promised wonderful savings and benefits not delivered and phase 2 needed. Why is this? One answer is that we find that the evidence used to create the business case was flawed and not accurate for the basis of defining service improvement. TCO was not understood.
At CoStratify when we talk about and analyse the total cost of ownership (TCO) we base our thinking and calculations on the real ledger costs and what has (actually) been spent that is either capital ( one time spend) or Operational ( Opex/recurring spend). It is only when you sample this over a period of at least 4 or 5 years we see a trend and capture what we term the 'run rate'. Run rate is really useful as it gives an organisation the trajectory of future spend based on looking back, then looking forward. For example, an organisation that has traditionally spent money on IT in a certain operating model such as on-premise hosting, with a small amount of external support and local staff, will continue to spend approximately the same (with inflation) if they don't change their strategy. We have tested this thinking over and over again and it is true that history/legacy defines future state.
The strategy (if unchallenged) defines and renews the run rate and the existing spend commitment for the future. Therefore organisations that are not understanding their spend profile and what is spent on what categories of IT, will continue with the same old journey and trajectory. Clients who have a handle on TCO, who apply this to usage scenarios, such as how much the delivery of a desktop costs for all users per year /per month will be in a much better-informed position to break out of the existing run rate and have a successful desktop transformation project in terms of benefits and savings, compared to those who have no real TCO markers. For the latter, the financial benefits will not happen as they don't understand the current IT in context of their TCO. This becomes a big problem moving forward.
Even before COVID 19 and lockdown, we saw the organisation who had an accurate handle on TCO being more agile and using the levers of spend analysis categorisation to adapt and be more flexible. They would act knowing;
(a) how cost is accumulated in the delivery of a specific service (such as desktop)
(b) knowing where big buckets of IT cost sit.
In a post COVID world where analysis of spend will be scrutinised and then scrutinised, again and again. Knowing where your 'big buckets' of costs are is vital. We are starting to see more focus on fixed and variable cost analysis as well. Many businesses looking at variable being the holy grail moving forward allowing a cost base to be turned on or off at times of need. Post COVID 19 this will in our opinion get even more attention as businesses won't want to be locked into long-term committed outsourcing relationships, for example for services that need to change or flex due to external factors.
Think of the scenario as an IT director, Head of Service, or similar. You are asked to make 20% savings and get an answer produced within 2 weeks. Without TCO knowledge of where the costs sit in real terms for any part of your service, turning around this work for a CFO or finance director will be impossible. You would be likely forced to make decisions without the evidence. Gathering this evidence, keeping it up to date, and then linking this back to your big bucket cost scenarios like data centre, telephony or desktop will be critical and even more essential moving forward. A good example of this recently was a client who really wanted to understand cost levers for change. Those scenarios where costs can be taken out that wouldn't affect output and those that will. i.e. you're not going to be able to reduce costs of a £3m managed service contract that's been taken out over 5 years, but you might be able to reduce the cost of software as a service in business areas that is not mission or business-critical. Switch to turn it on or off when needed for example.
At CoStratify our evidence-based gathering approach allows TCO to be calculated and if you are getting asked these question in relation to savings and scrutiny around the cost of your IT service and you have not got a handle on your TCO, It would be great to have the conversation as to how we may be able to help.
We have seen lots of cost data from various organisations and we have never failed yet to establish a TCO. We are therefore happy to take on this challenge! The next article in our series will pick up another point in our summary that is tightly linked to TCO. That is measuring the value of IT to the business and how that needs to be reflected in an adaptive IT strategy.
Thank you for taking the time to read this article in our series. Please do get in touch for any further information and where you feel we can help – Andy Yates Director and CoOwner
CoStratify – Forming strong evidence for change